Mandraki is the capital of the island of Nisyros. Most ferries arrive at Mandraki port so this city is the first thing we saw when we arrived. It is quite a small town, very easy to walk around no taxis however you can rent a vehicle if you want to explore the island on your own.  We came by the scheduled bluestar ferry from Rodos Town. Many people will say that Nisyros is only good to visit for a day or maximum 2. It is simply not true, we stayed 4 nights and there were still a lot of things we couldn't get to so next year we will definitely come back. There are only a handful of hotels on the island and most of them are located in Mandraki. We stayed at the Porfyris Hotel which was a moderately priced, nice hotel in the middle of town.
The first thing you will realize about Mandraki that is still has the Greek small town charm. Not too many shops, not too many tourists, kids running around in town, older people sitting on the benches in front of their house watching people go by.
What to do/see in Mandraki?
Walk around the port and the shore area boasting many bars and restaurants.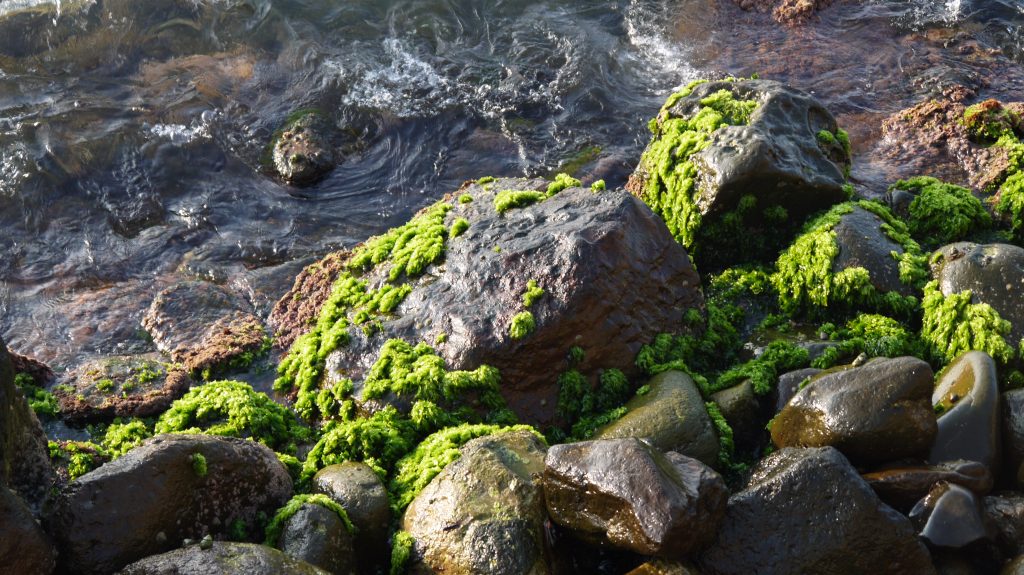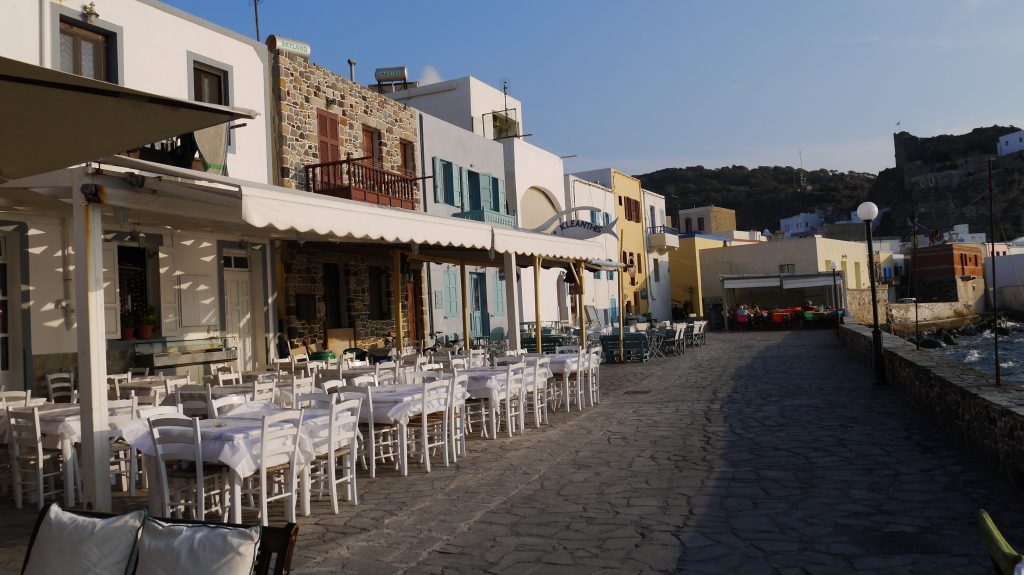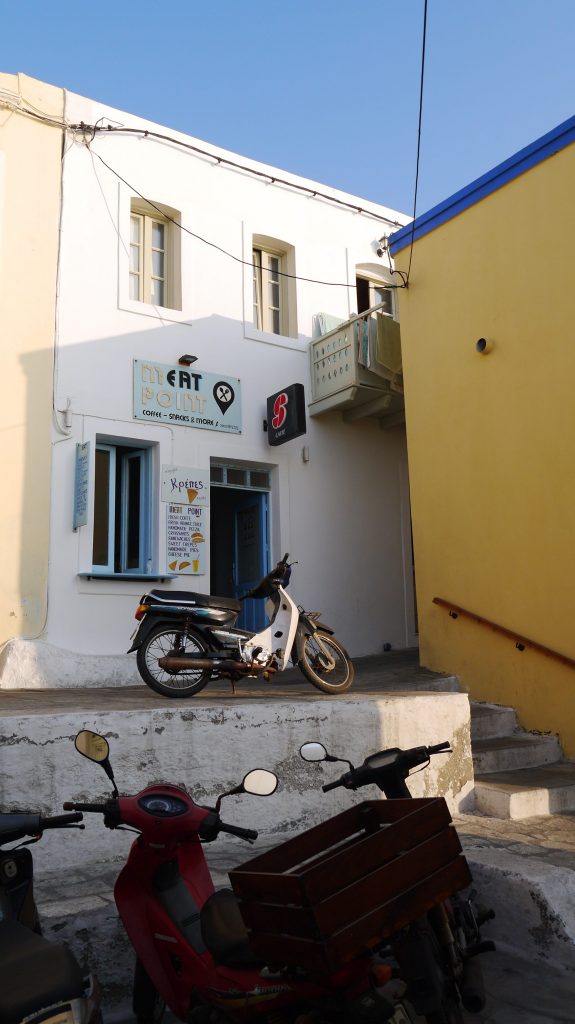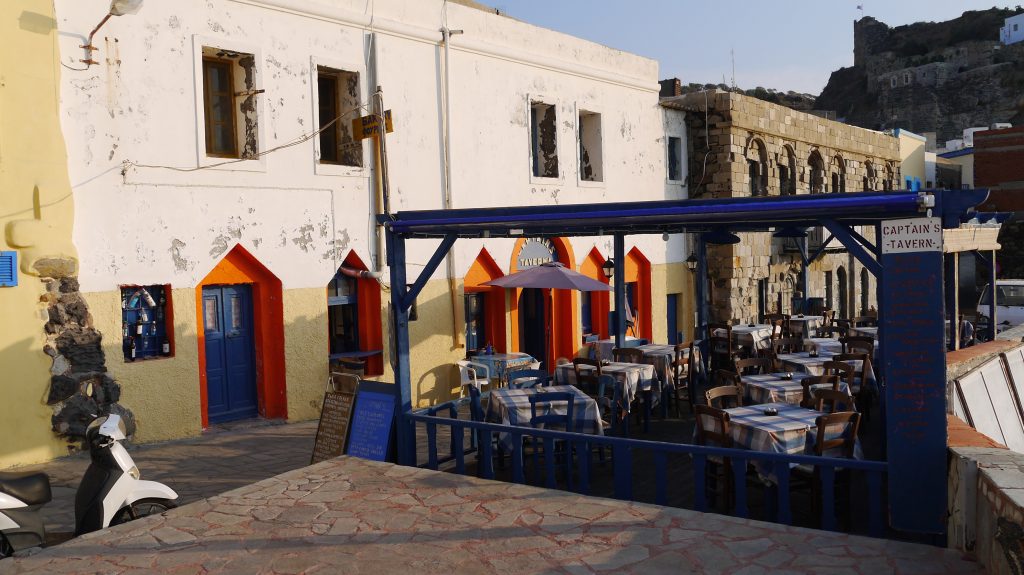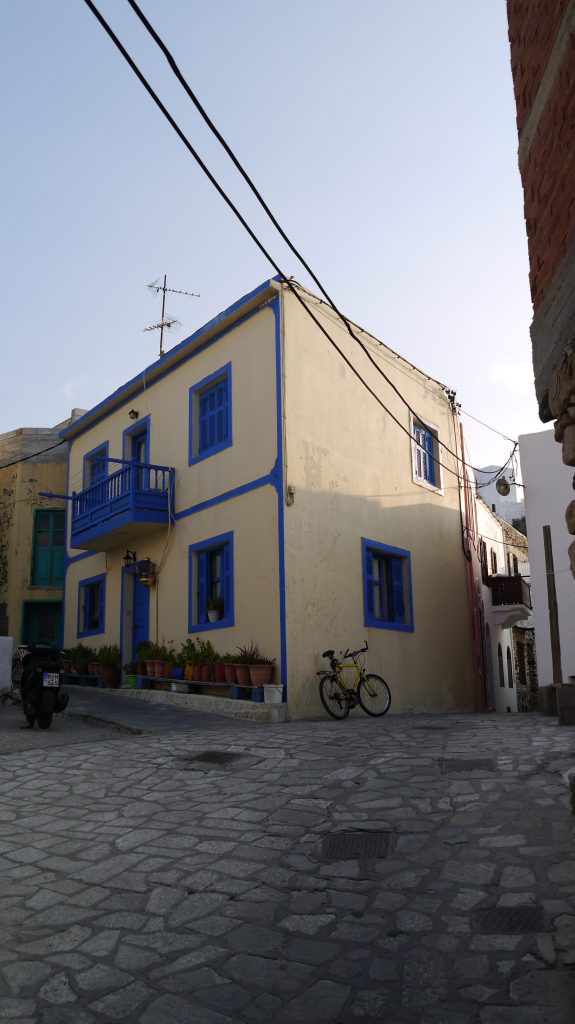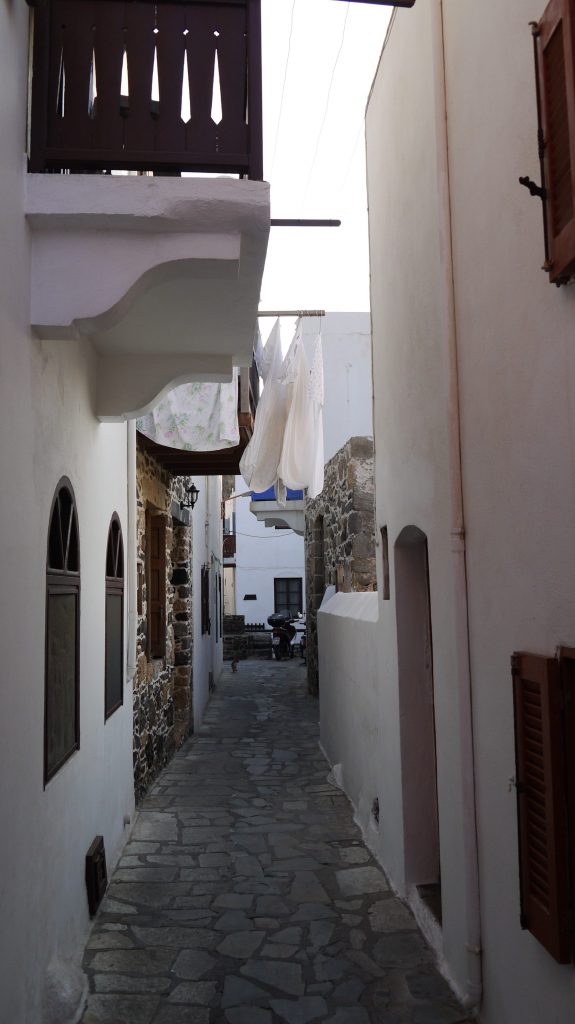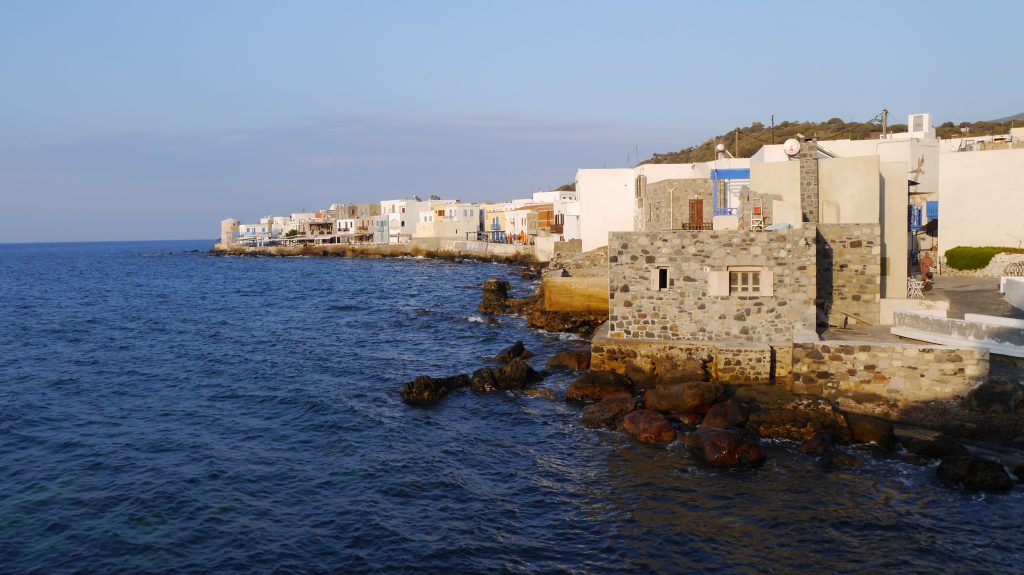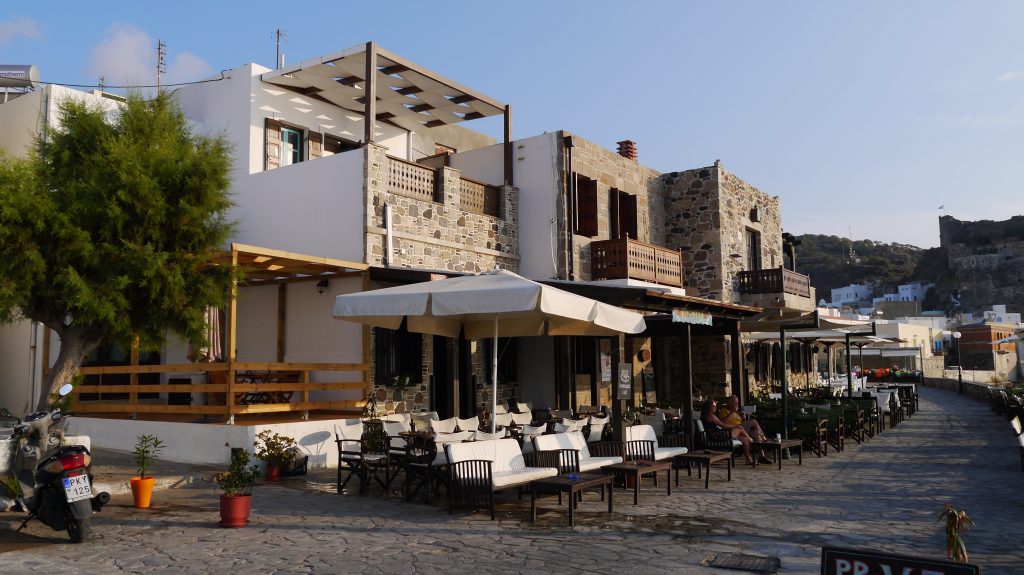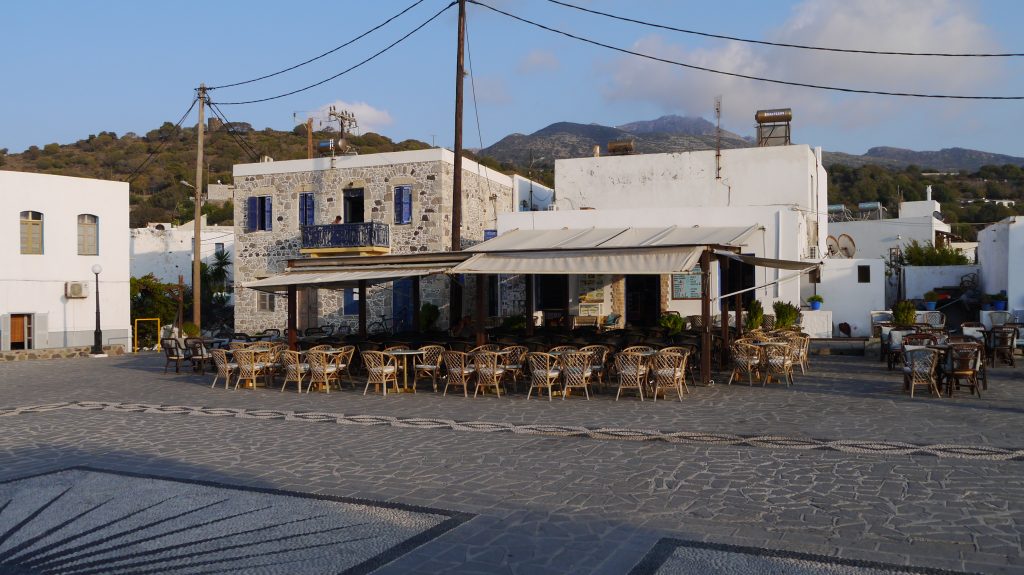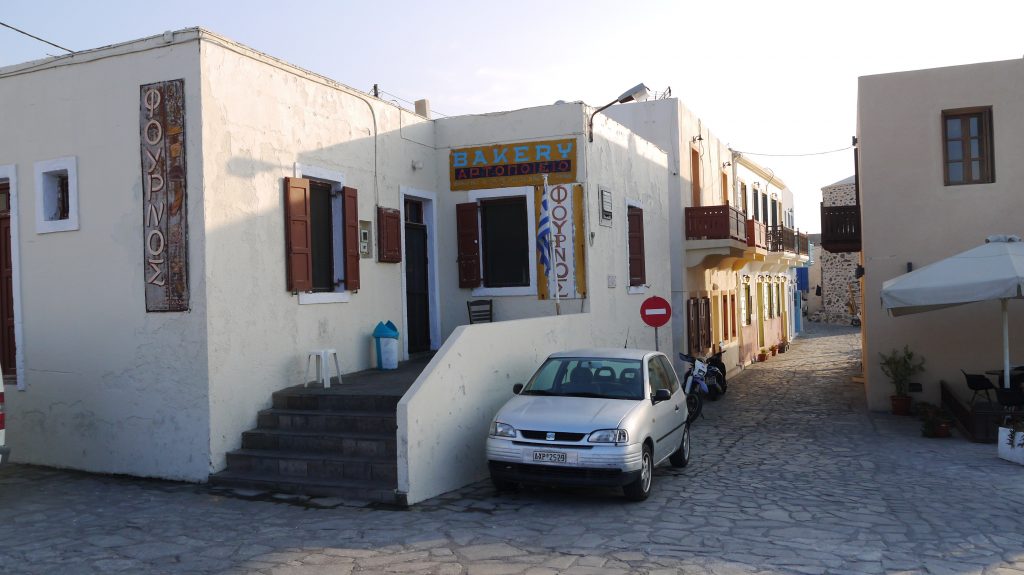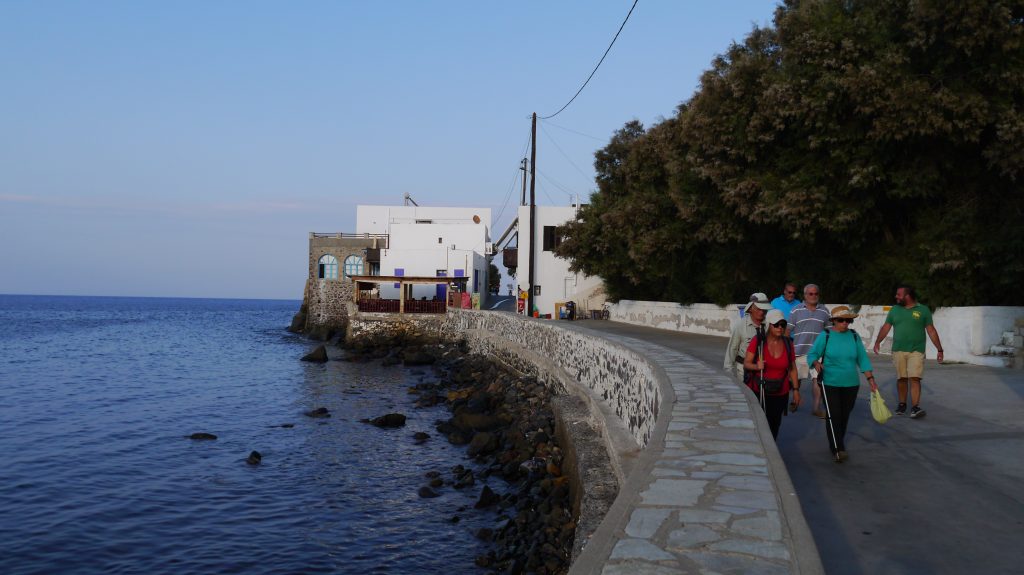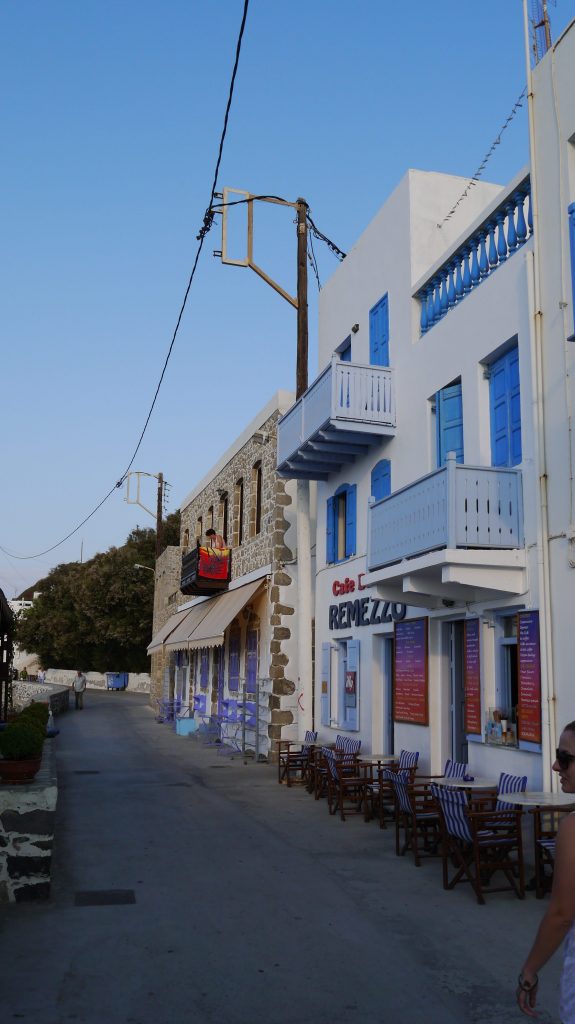 Walk up to the Monastery of Panagia Spiliani and enjoy the view over the city. There are also remains of a fort but that it closed off only the monastery can be visited. The Monastery of Panagia Spiliani is built on a volcanic rock.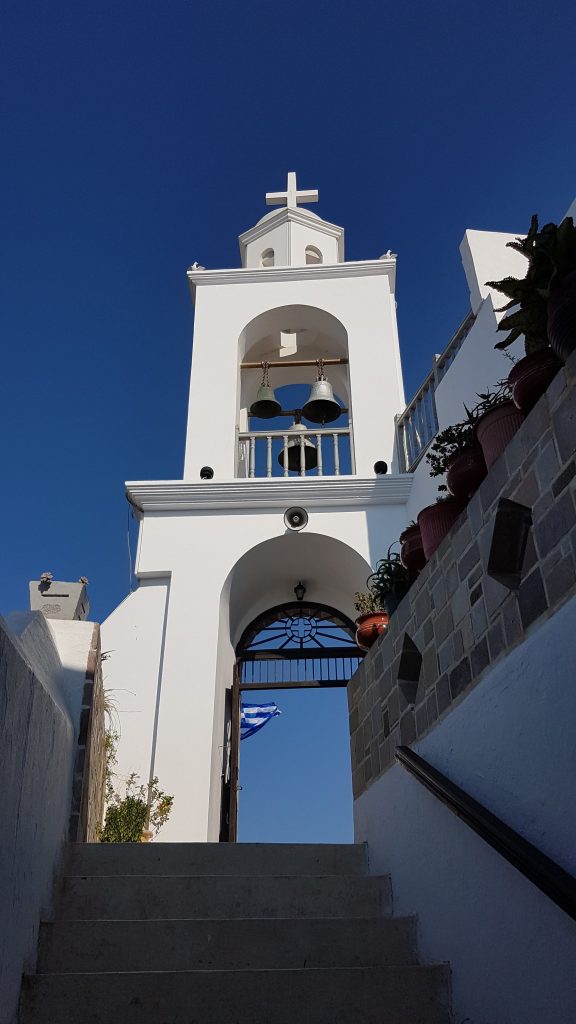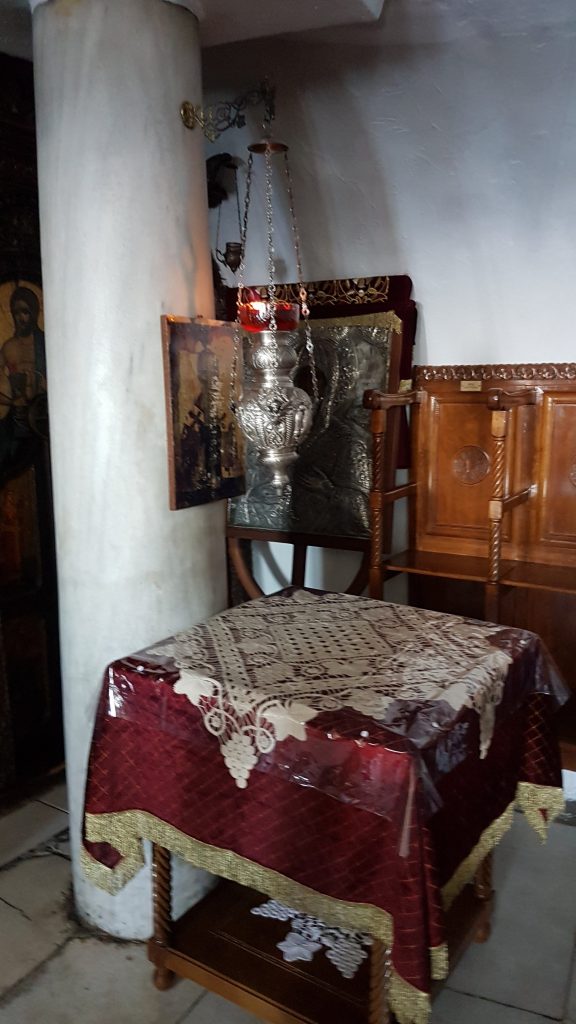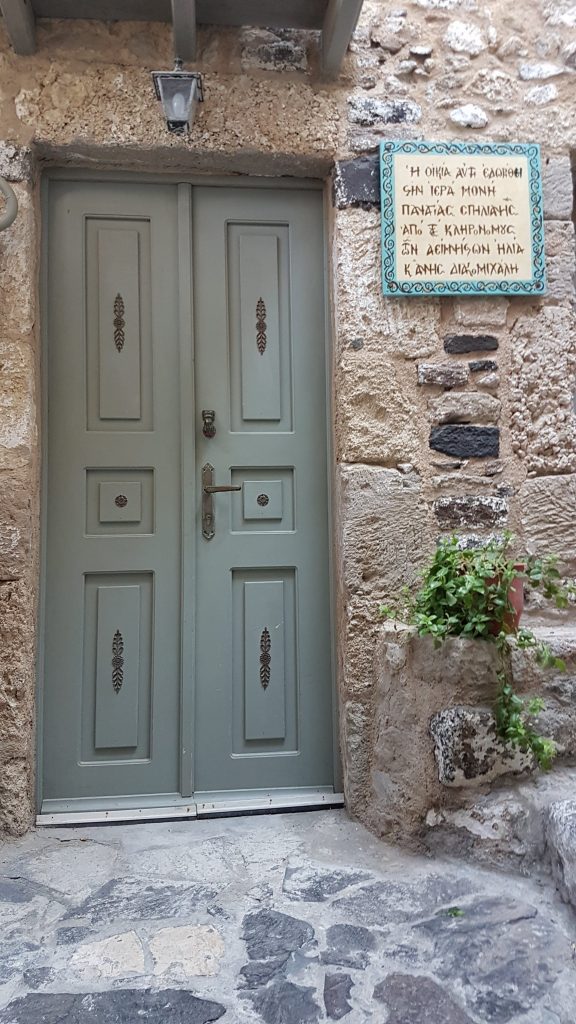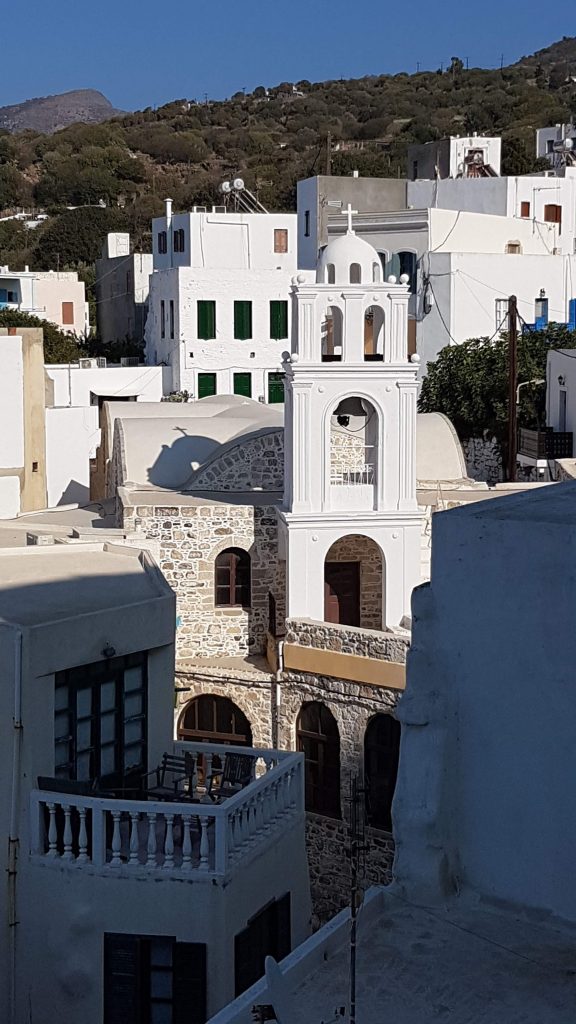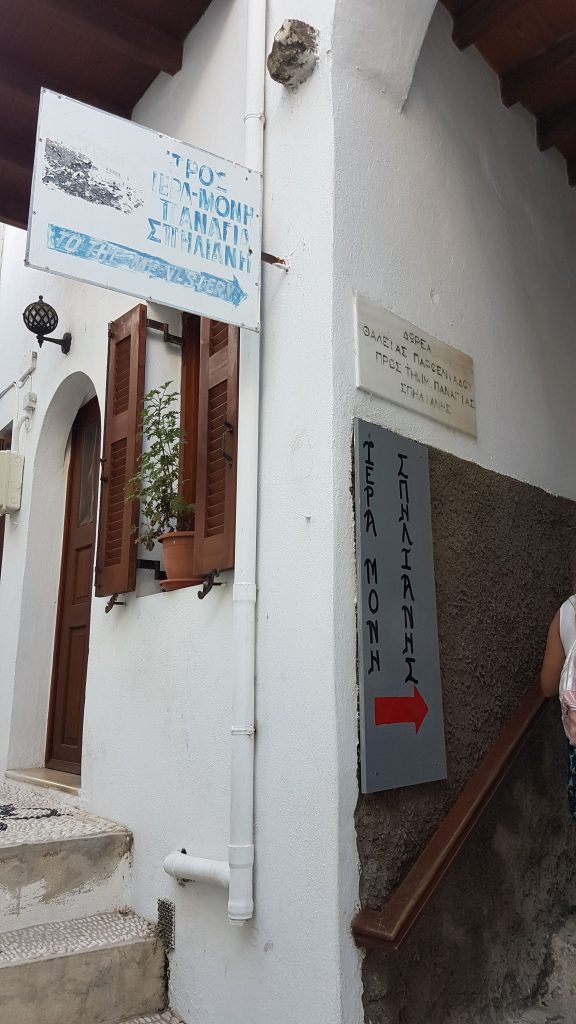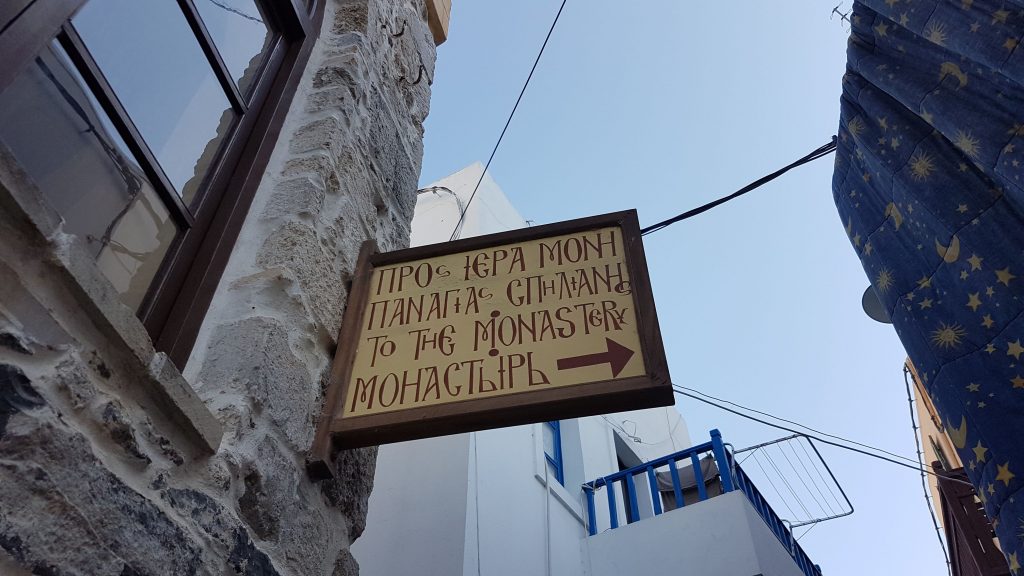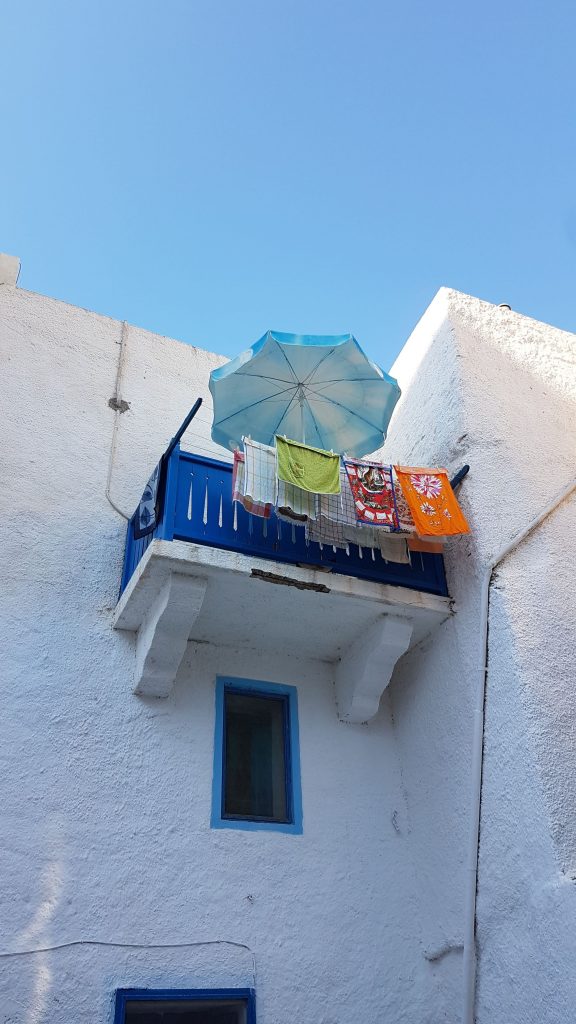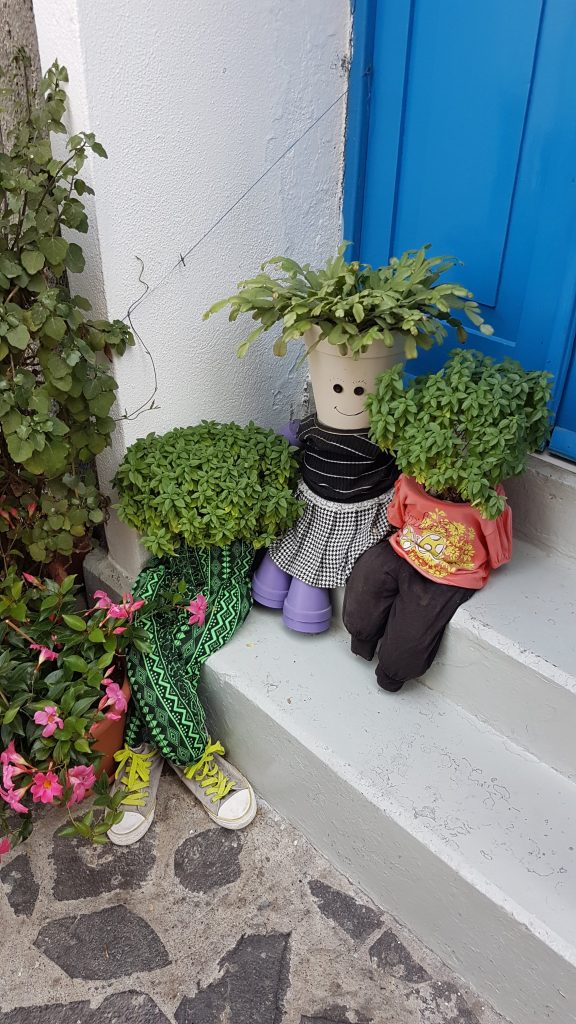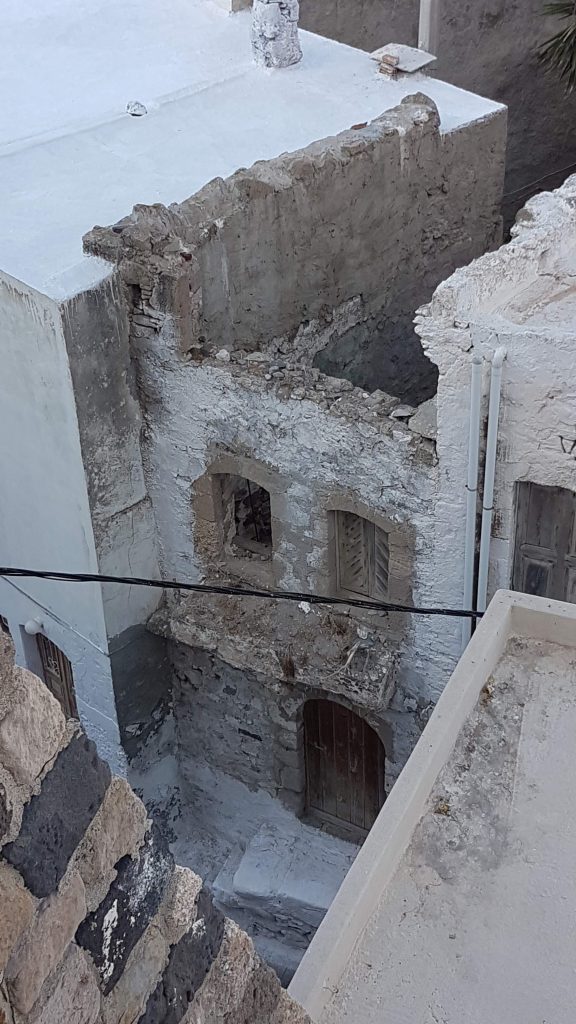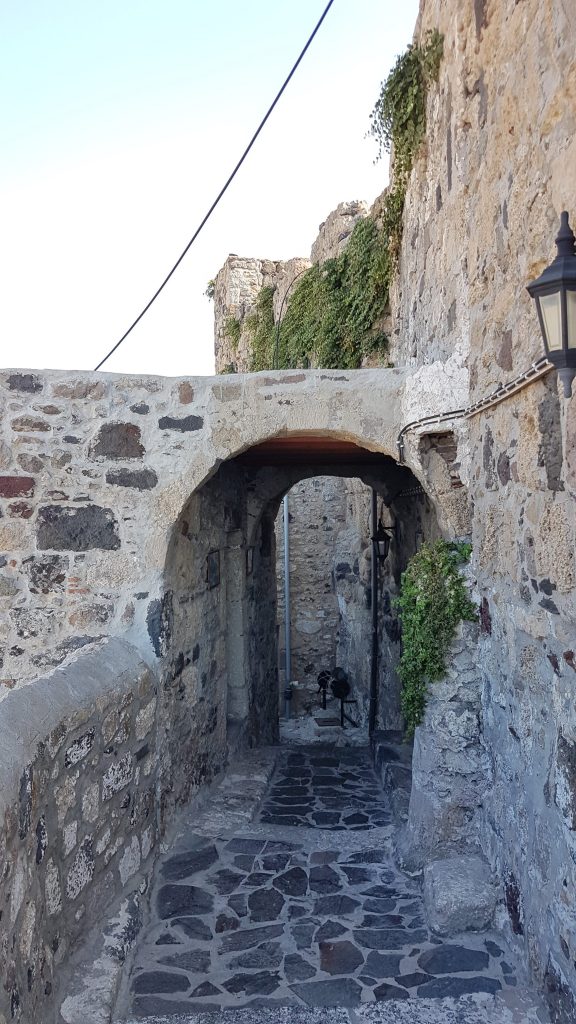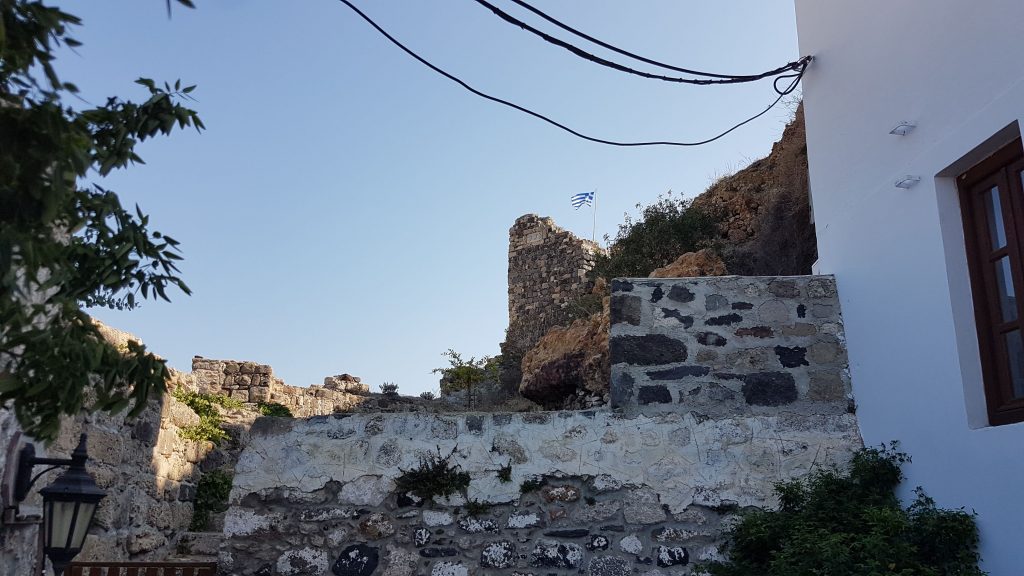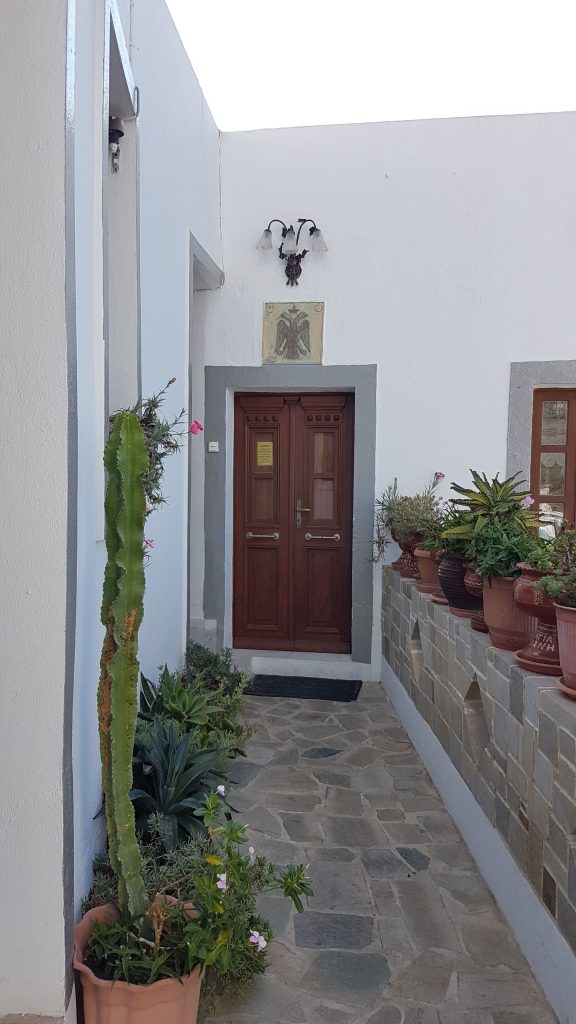 Walk the curvy streets of Mandraki and shop authentic locally made souvenirs. There are many hidden small streets in town make sure you explore everything for example we only found the Archaeological Museum of Nisyros on the last day when it was already closed. There are beautiful traditional buildings everywhere and a very friendly atmosphere.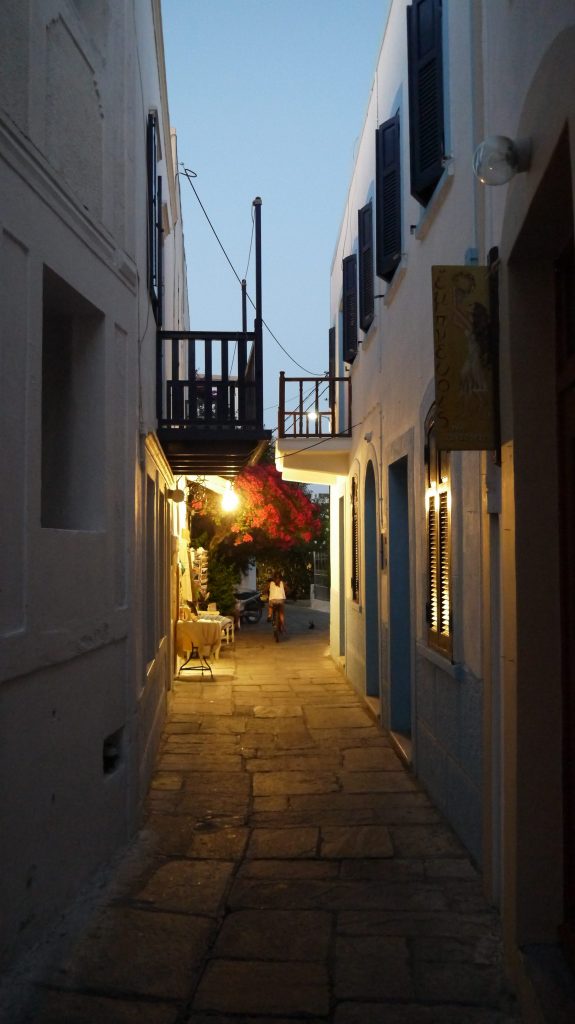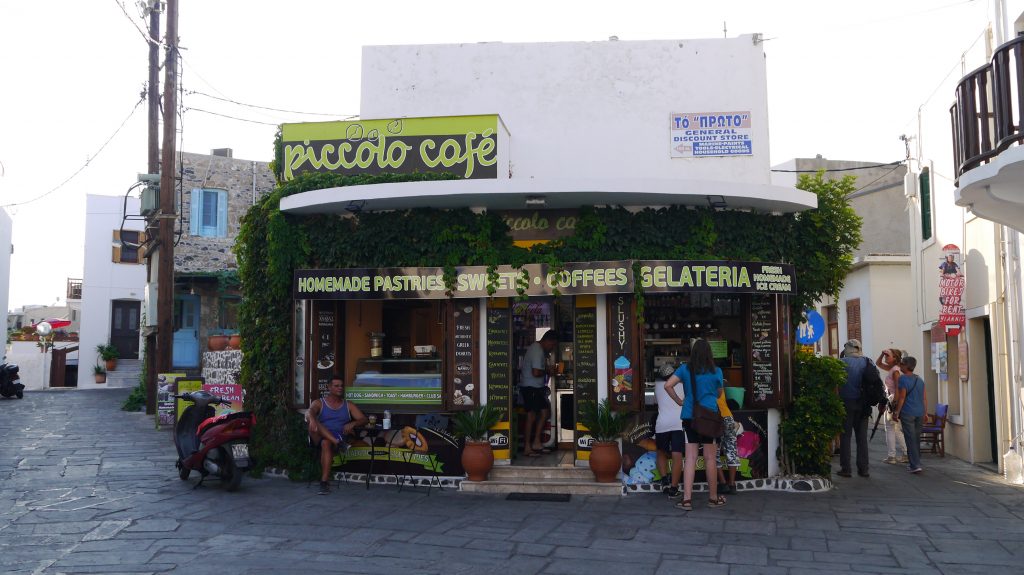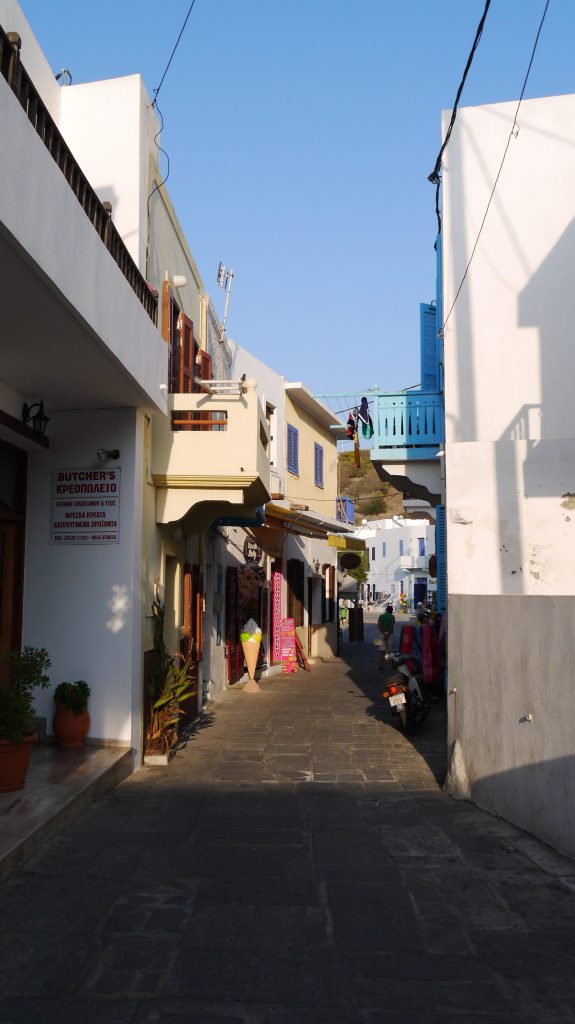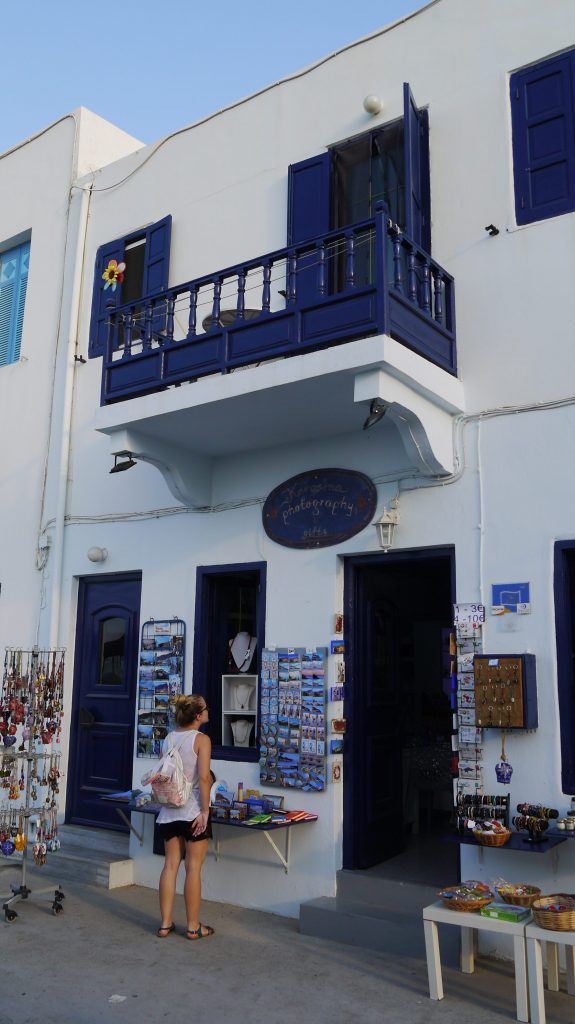 Eat out at restaurant Irini or Vegos at the square that is covered by 2 giant trees. Not only the food is fantastic in both establishments but the atmosphere is truly unique. In my opinion these 2 restaurants are the best in town. Make sure you try the local roast goat, roast pork and koukouzina which is Nysiros' answer to Raki. If you are just passing by and you want to get a quick bite, you can get a gyros to go for €2.50 at Restaurant Irini.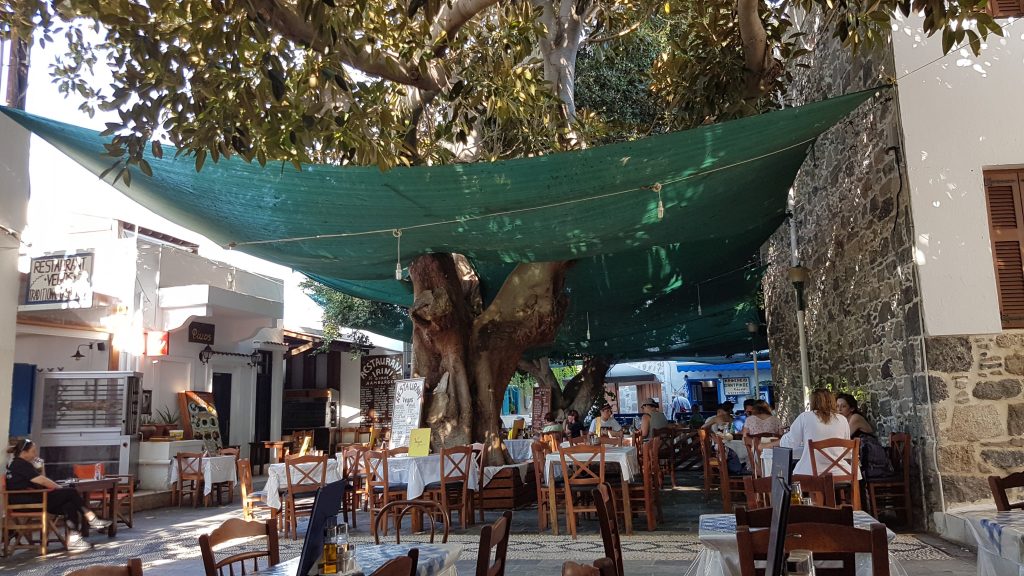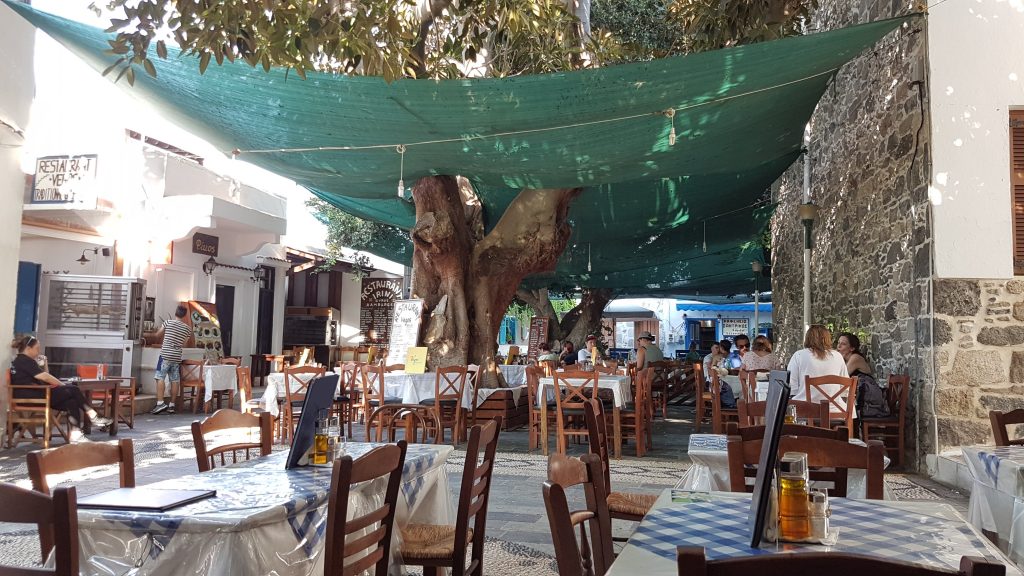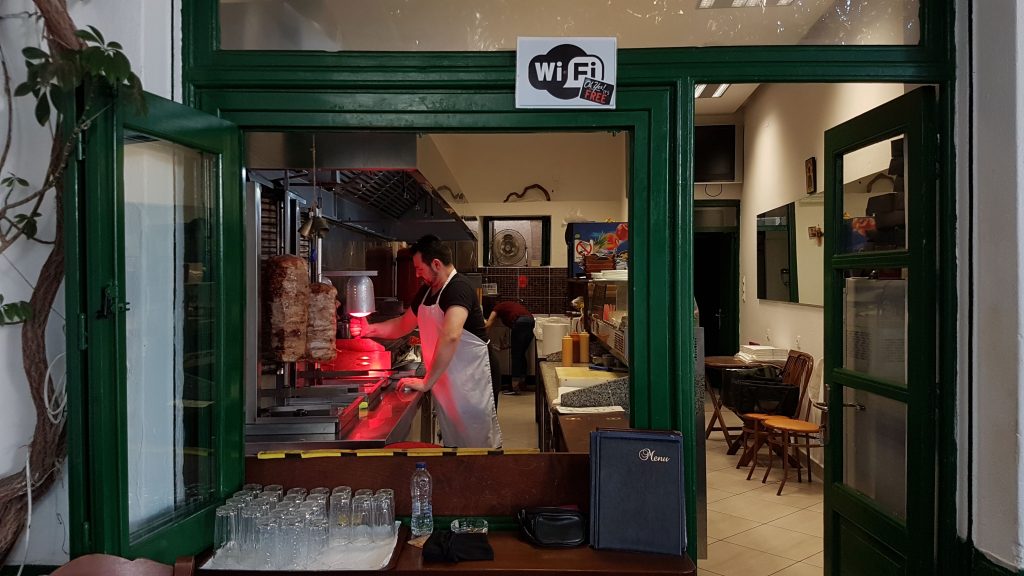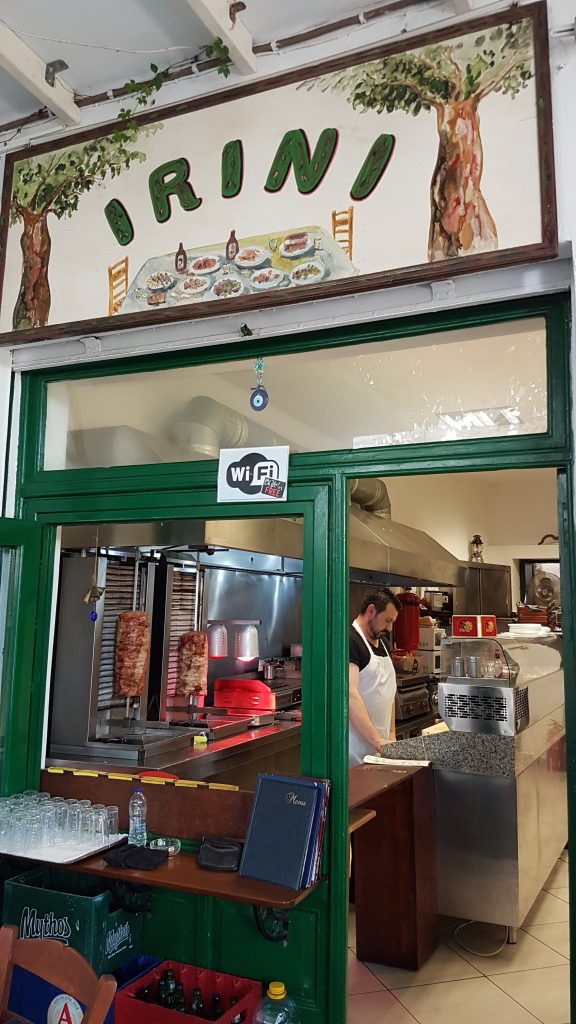 Roasted chicken and pork.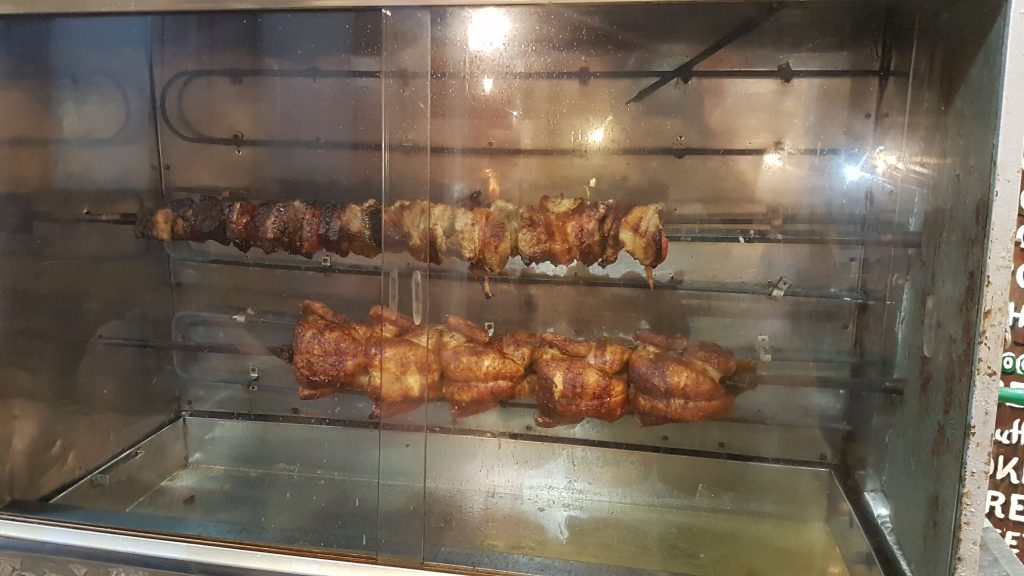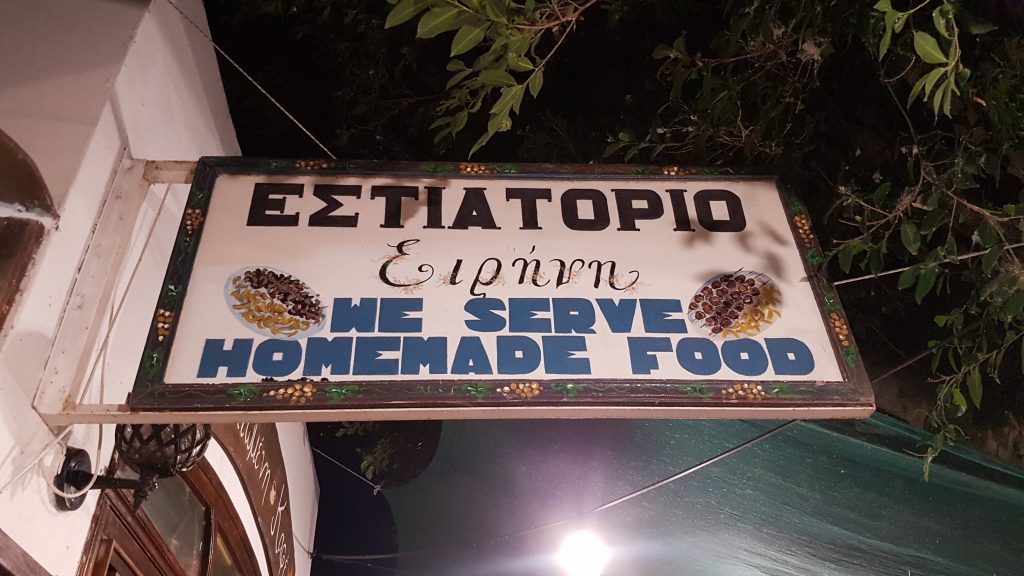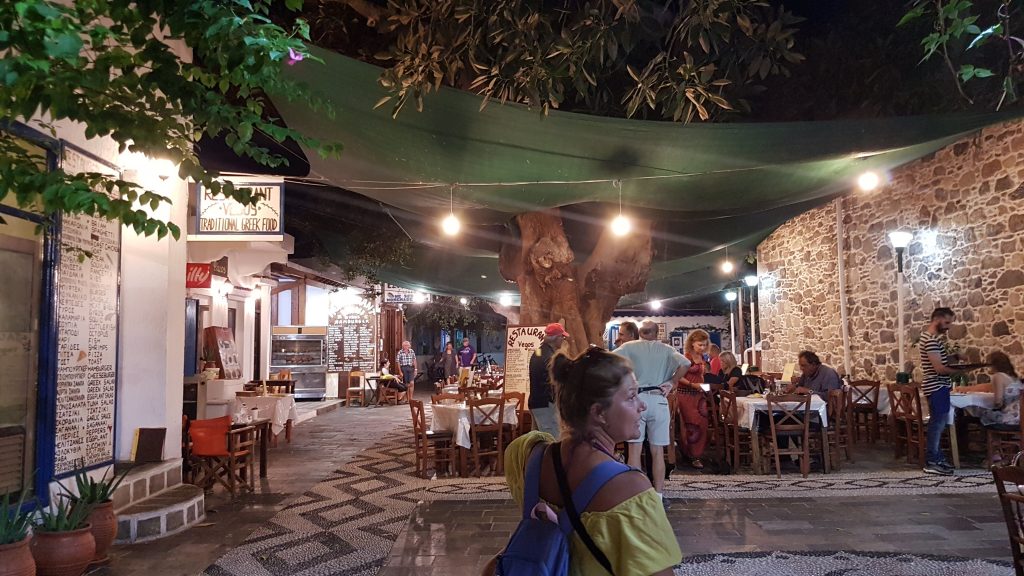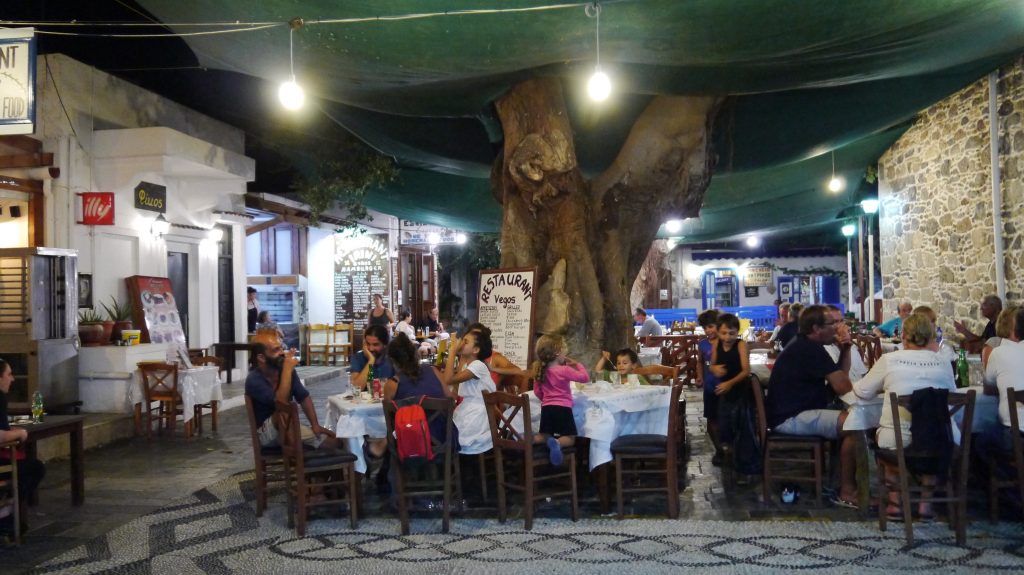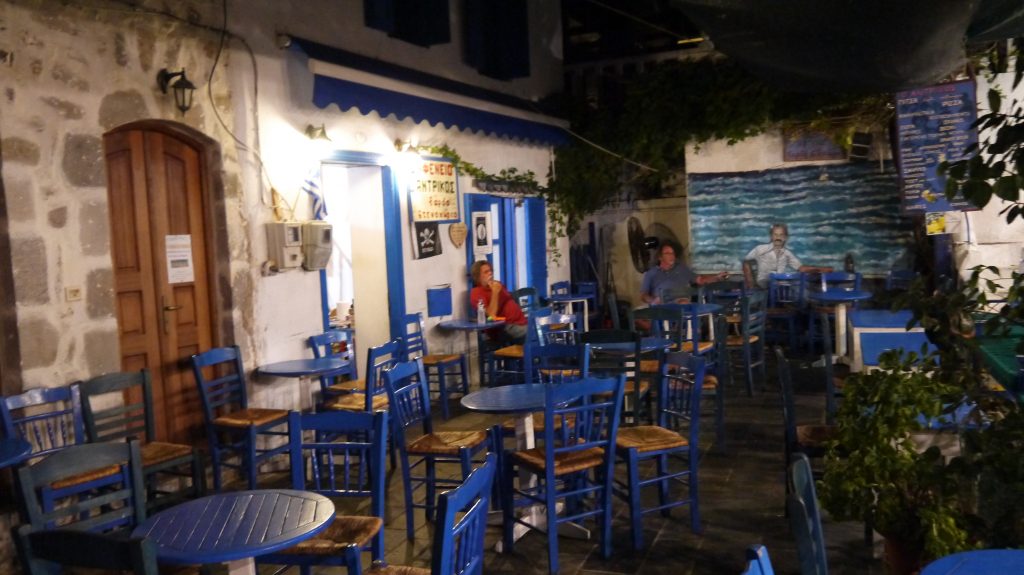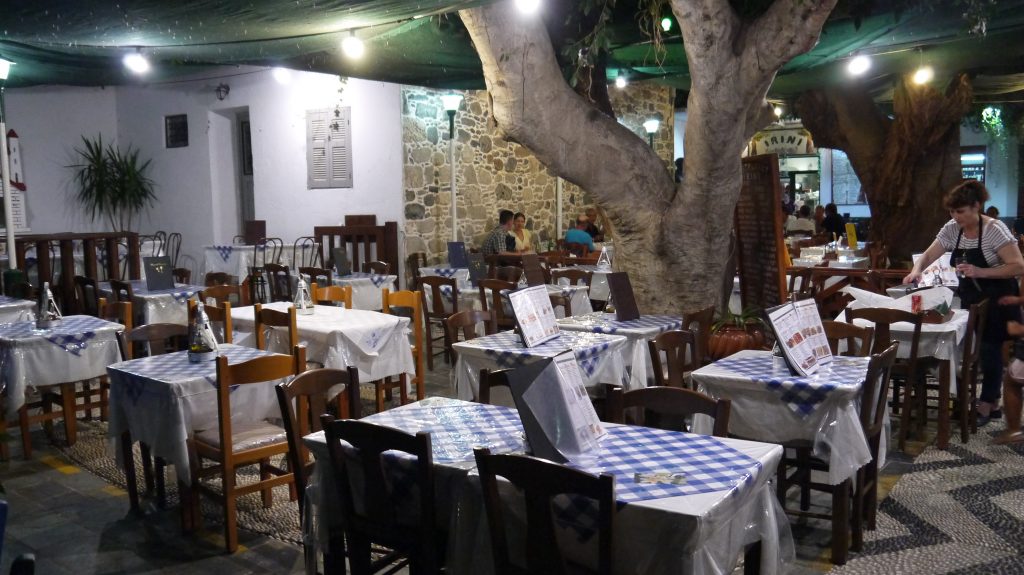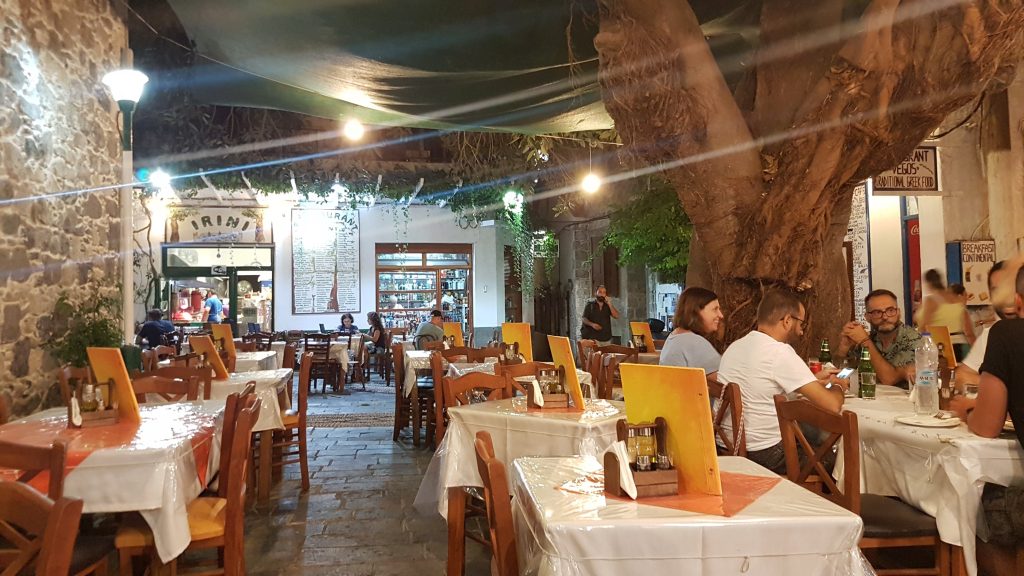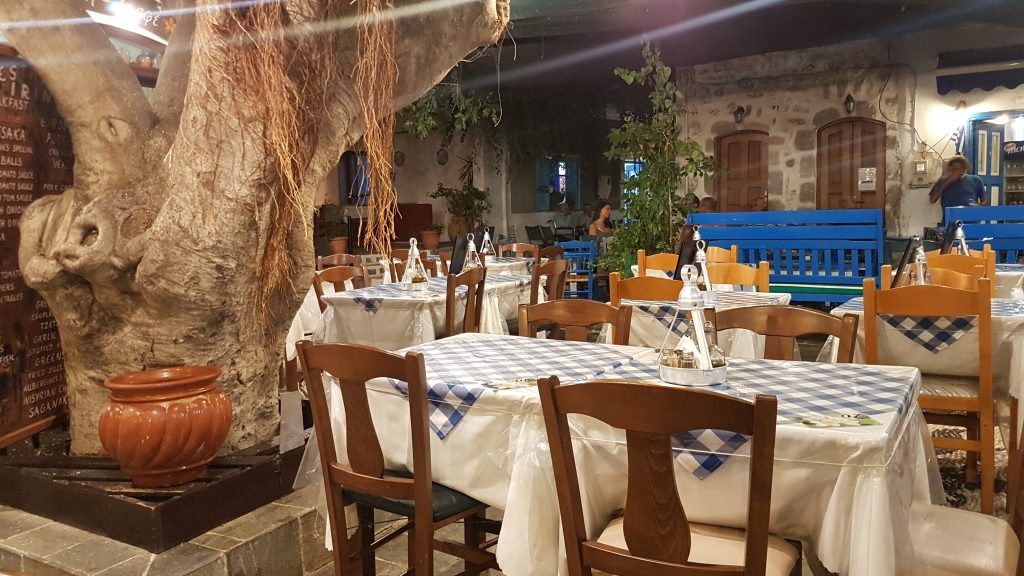 Goat in traditional Tomato sauce.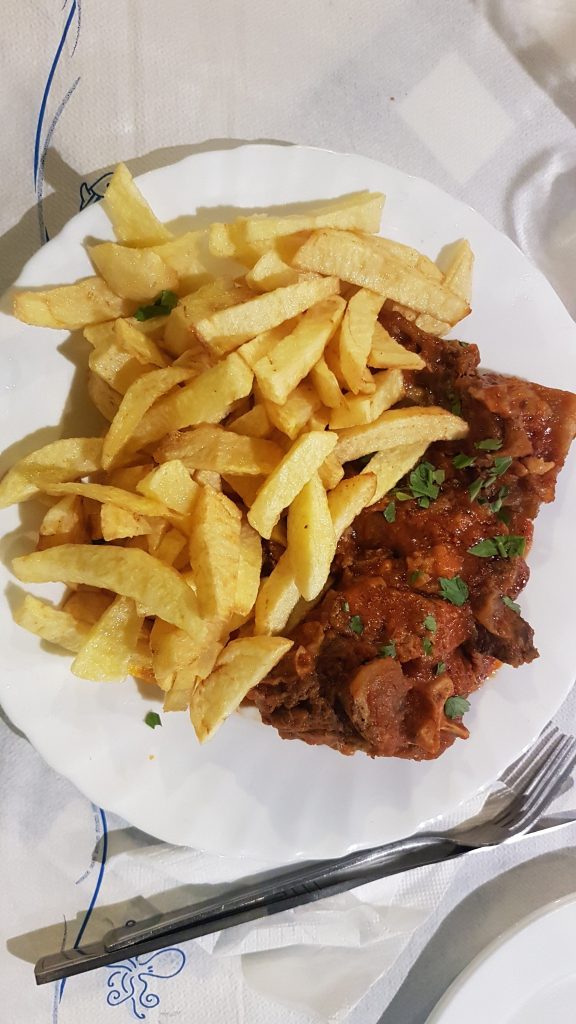 Nisyros Kebabs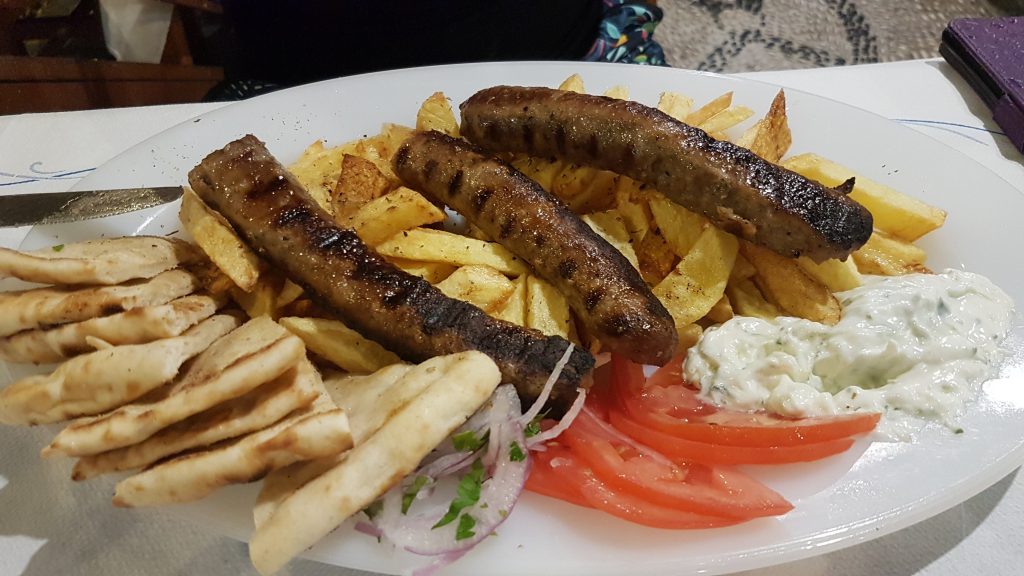 Koukouzina with ice.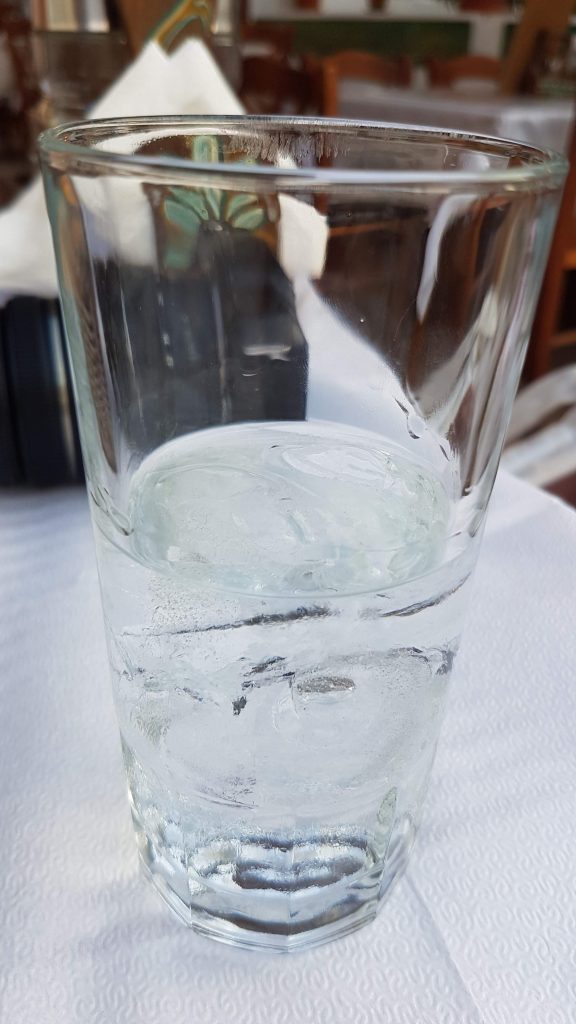 Dolmitos and roast peppers stuffed with greek cheese and white wine.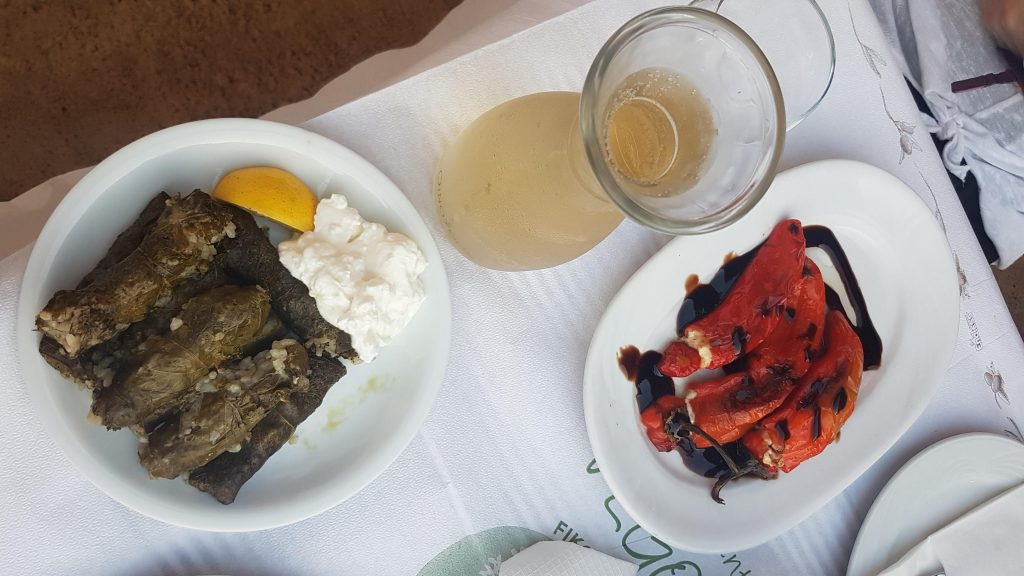 Roast Goat with Salad.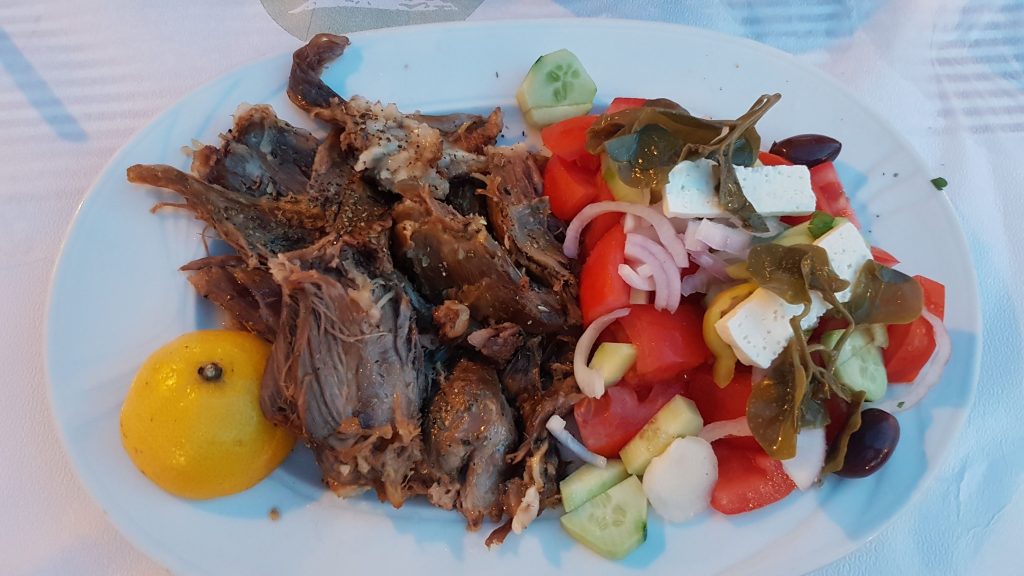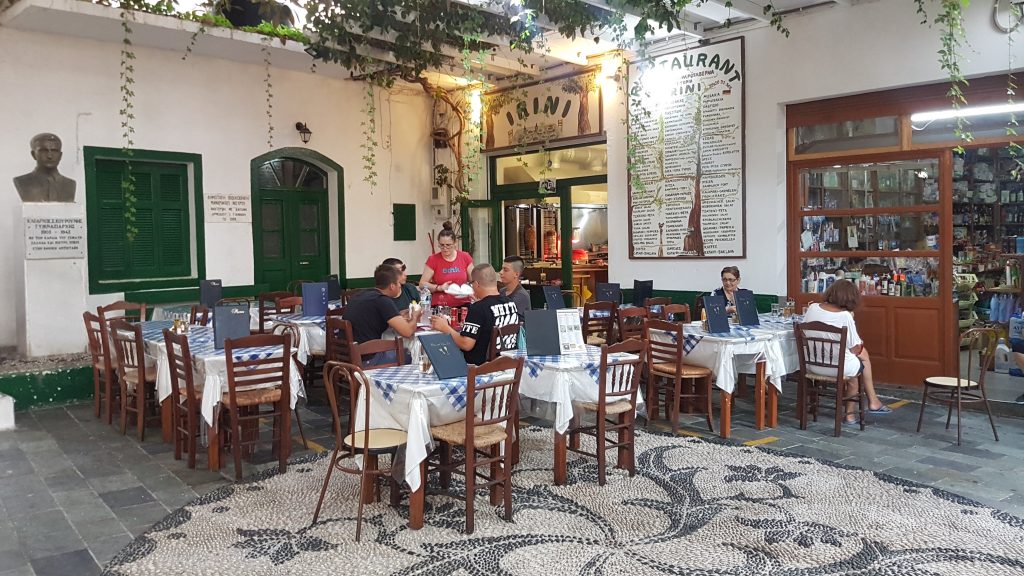 Green beans with Garlic dip + fried greek cheese.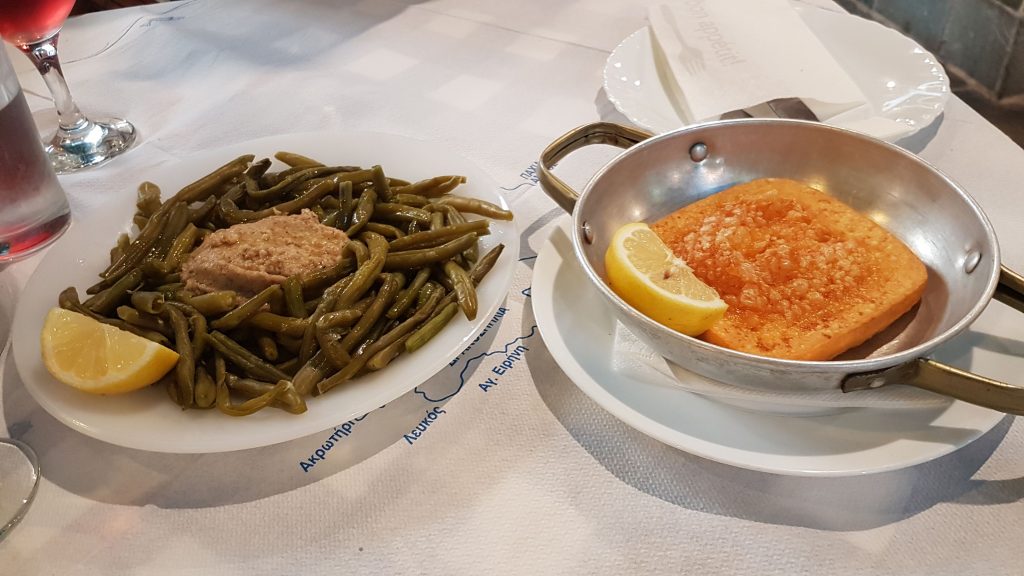 Roast Pork with Salad.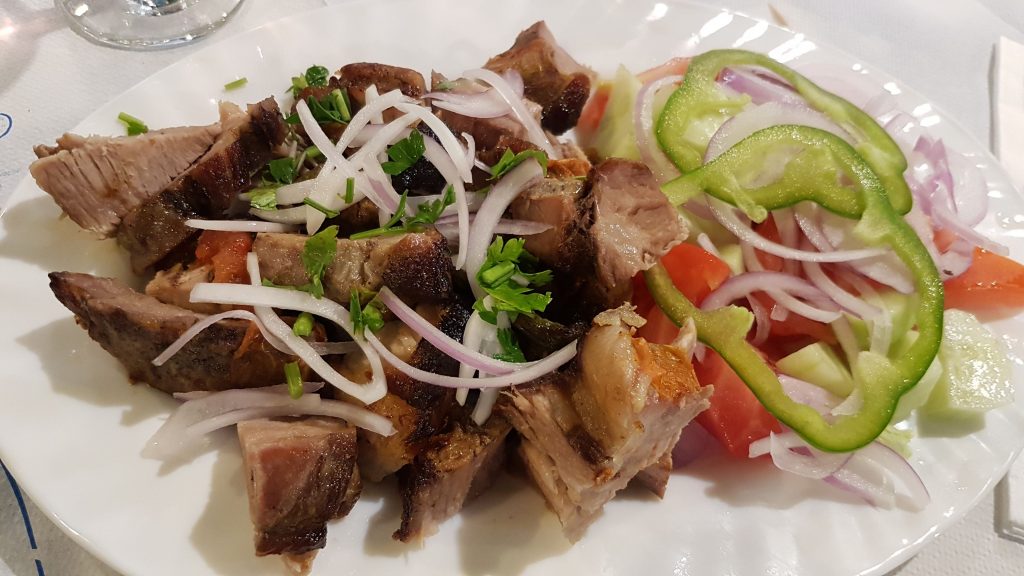 Sunbath and swim in the sea at Mandraki's Chochlaki Beach. This beach is famous from its dark pebbles. You will need water shoes though as it is quite uncomfortable to walk on the large pebbles. The water is crystal clear and there are also a few umbrellas and some blue painted pallets serving as sunbeds along with benches by walkway. You can use all of these for free. If you feel adventurous you can trek along the shoreline for a while to find absolutely secluded beaches. This is what lies beyond Chochlaki Beach: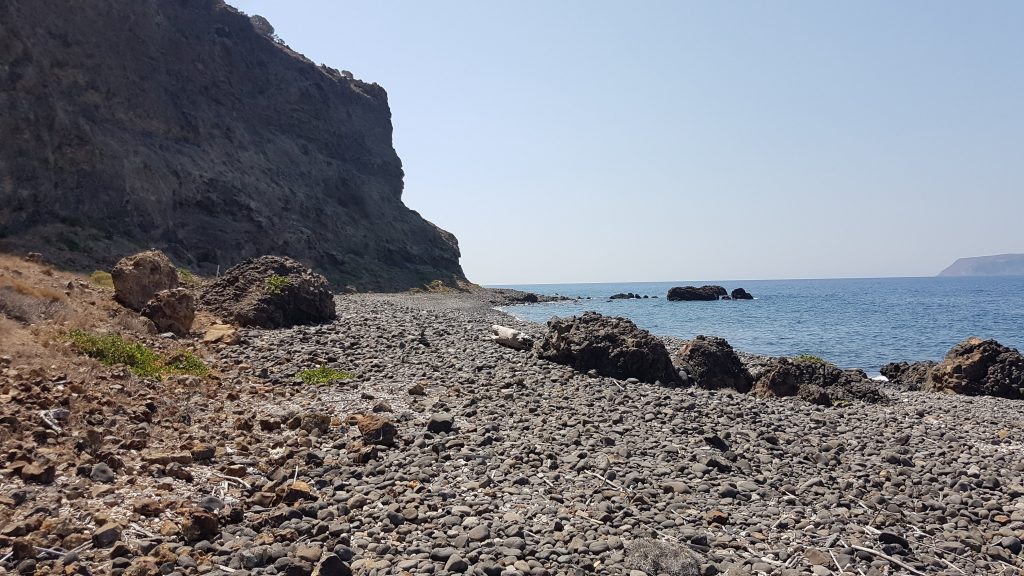 Chochlaki Beach is ideal to watch the sunset. We even created a 4K Chochlaki Beach sunset time lapse video.
As you probably know naturism is widely accepted and allowed in Greece. Usually the beginning of a beach is for people wearing bathing suites however as you walk towards the end of the beach you might experience nude bathers. There are no services, restrooms on Chochlaki Beach apart from one beach dressing room. Even the path stops half way through and you have to walk on the pebbles if you want to get to the far side of the beach. Now a few photos of the beach and its fabulous black pebbles. You can get to Chochlaki Beach using the stylish walkway at the bottom of the hill that has the monastery on it.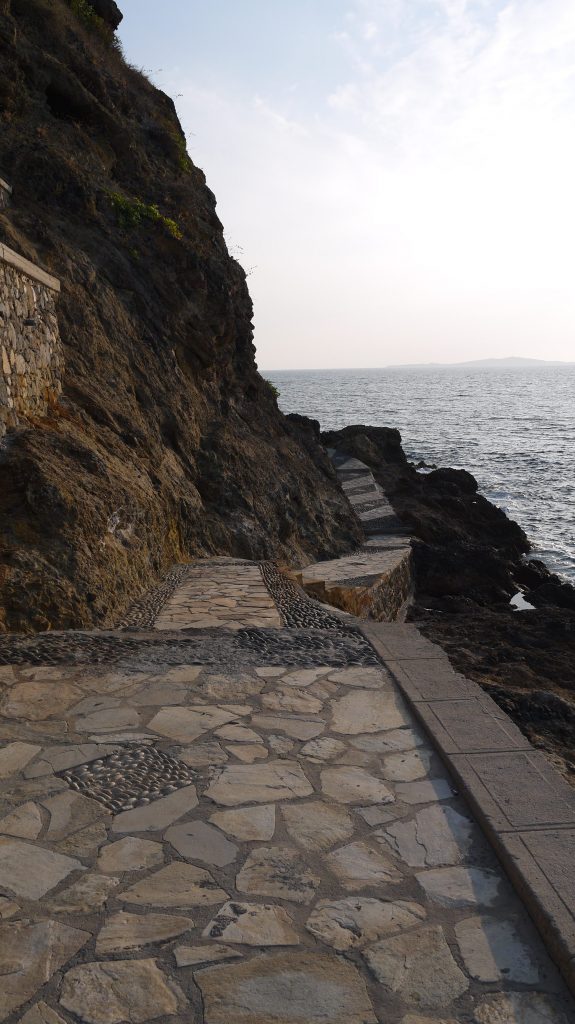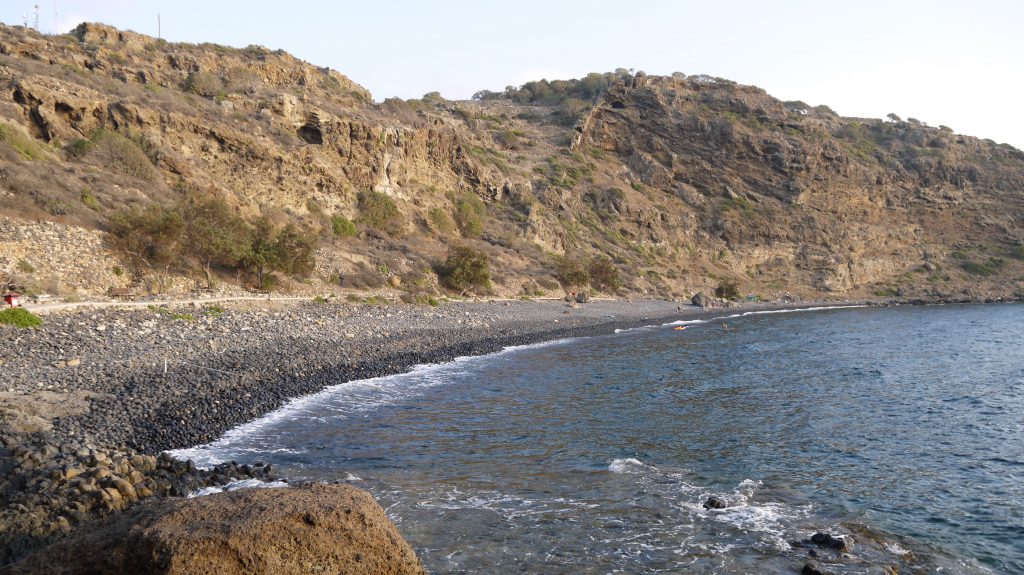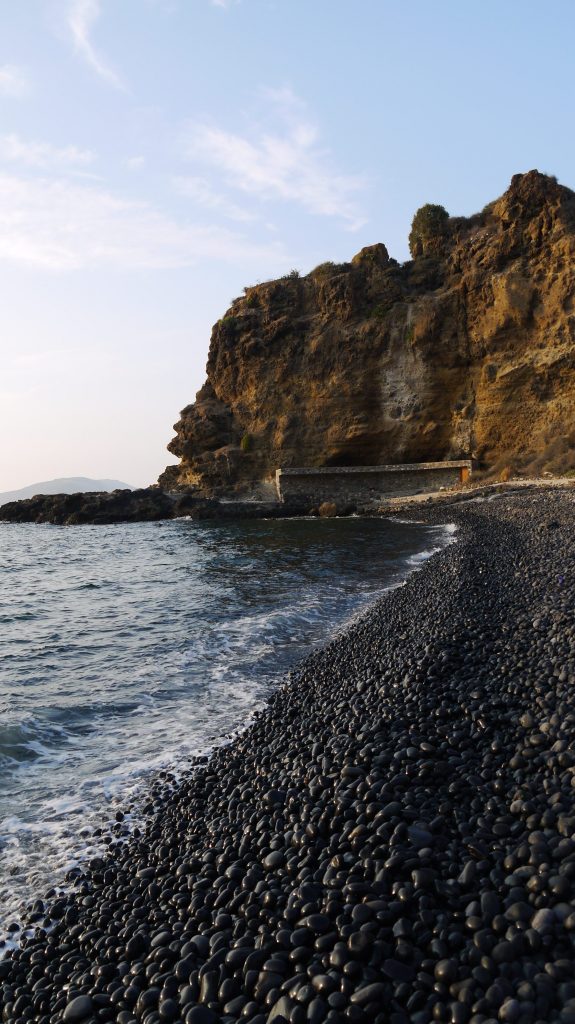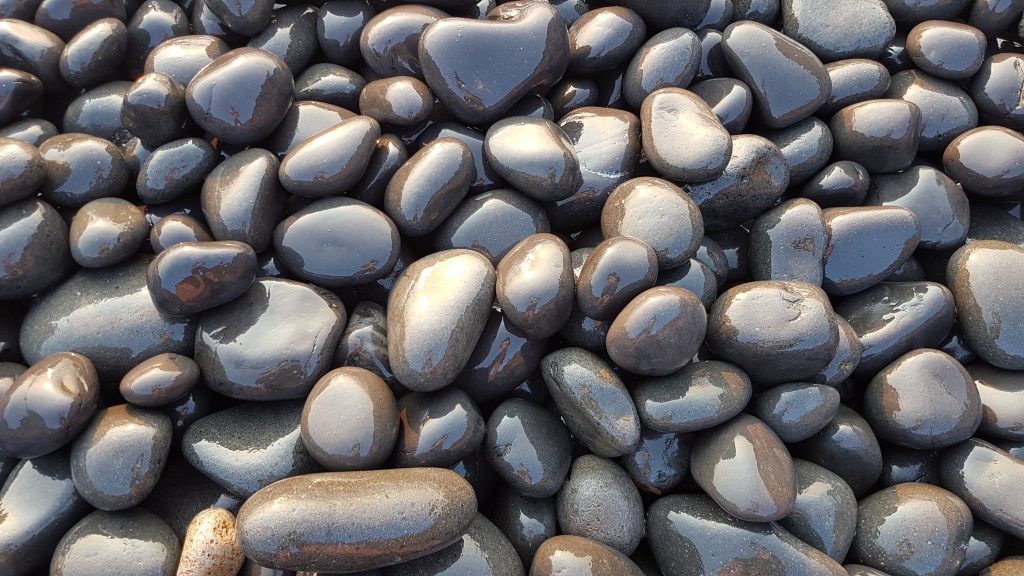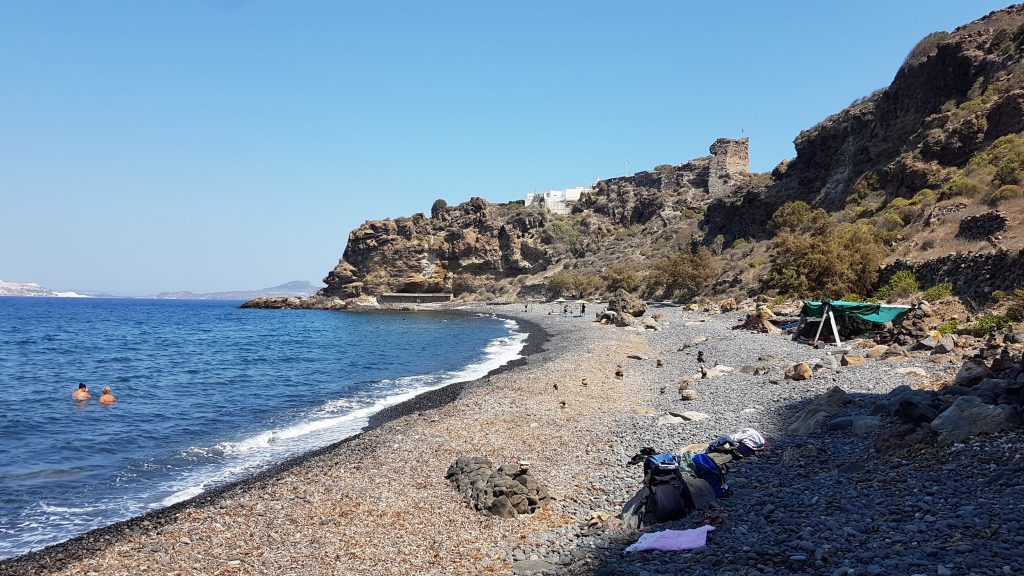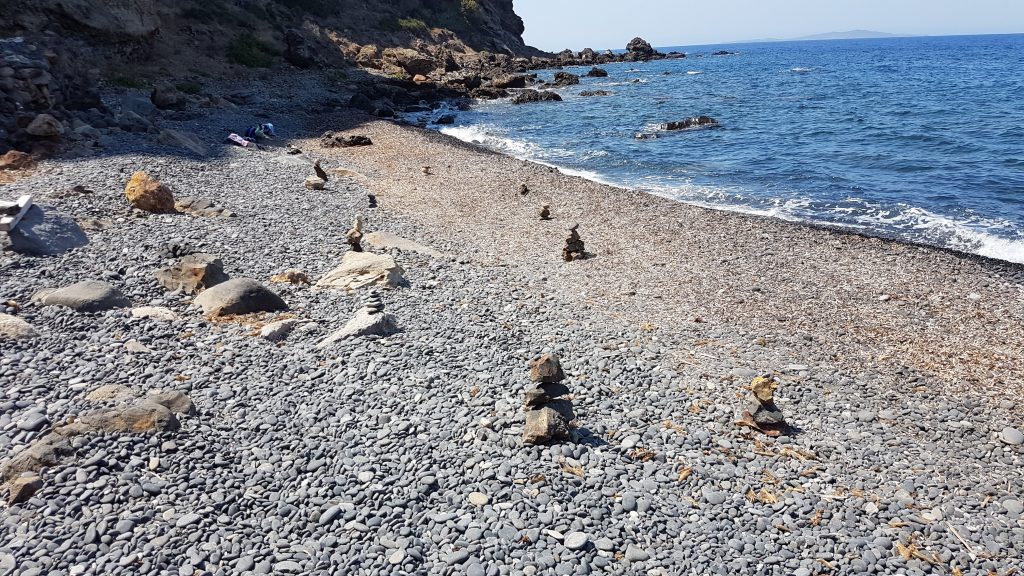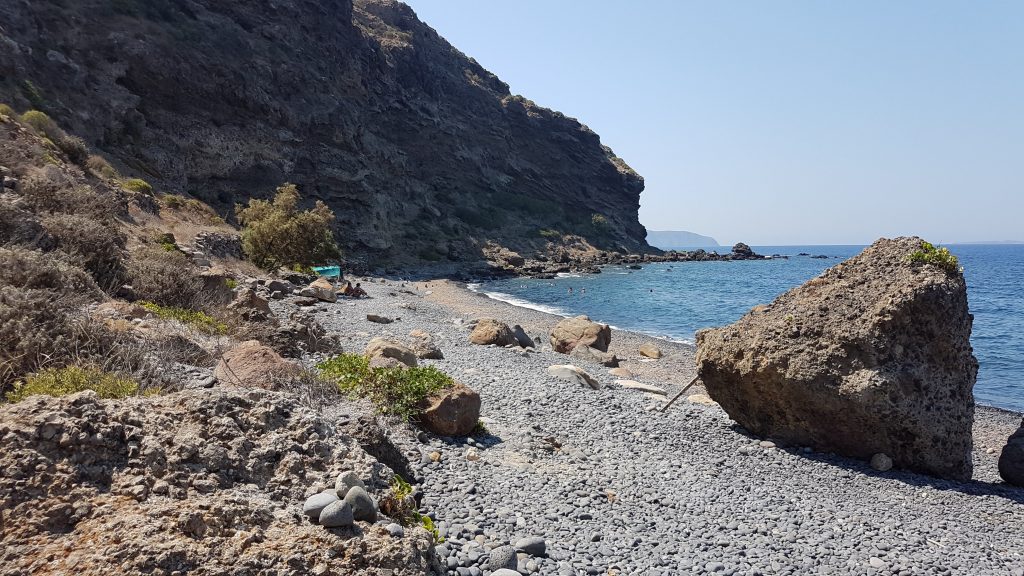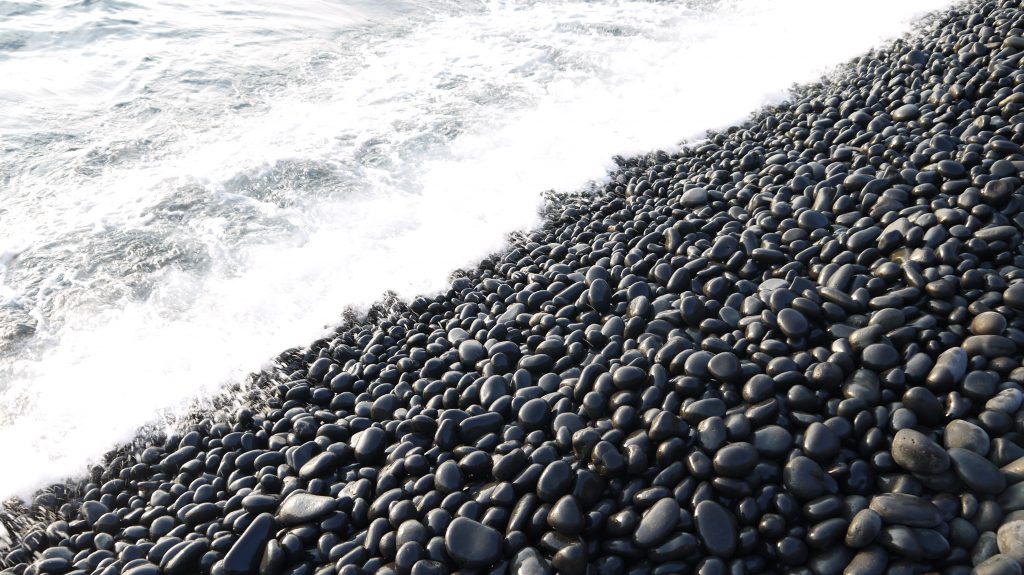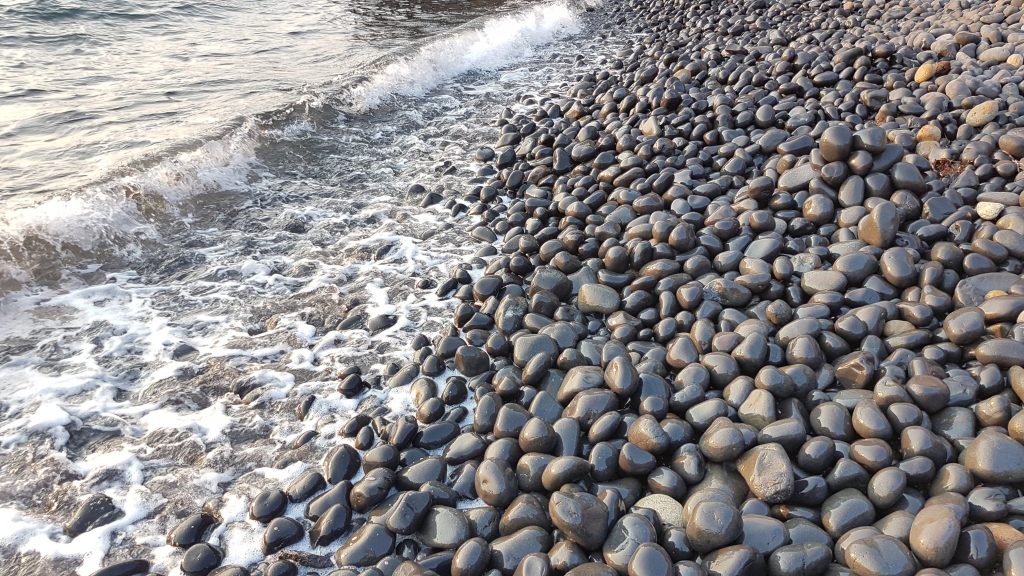 There is also a small beach in town, I am unsure what it is called. There are a few umbrellas and sunbeds available I am guessing they are free. So if you are lazy to walk to Chochlaki Beach this could be an alternative.